Ratings how do these work?
| | |
| --- | --- |
| Name | Lake Louisa State Park |
| Address | 7305 U.S. Highway 27, Clermont, FL 34714 |
| Overall | 3.8 |
| Bug | |
| Amenities | |
| Staff | |
| Cleanliness | |
| Surroundings | |
Location
---
Lake Louisa State Park is unlike many of the Florida State Parks that we have visited in that there are these amazing rolling hills throughout the park and surrounding areas - we typically get the flat Florida terrain. This really gives you the impression that you have left Florida and gone to another state, with Disney World only 30 minutes away. The hills make for some great biking and hiking without leaving the park at all. This makes Lake Louisa State Park a great place to camp, visit, or use as a launching point for your other adventures.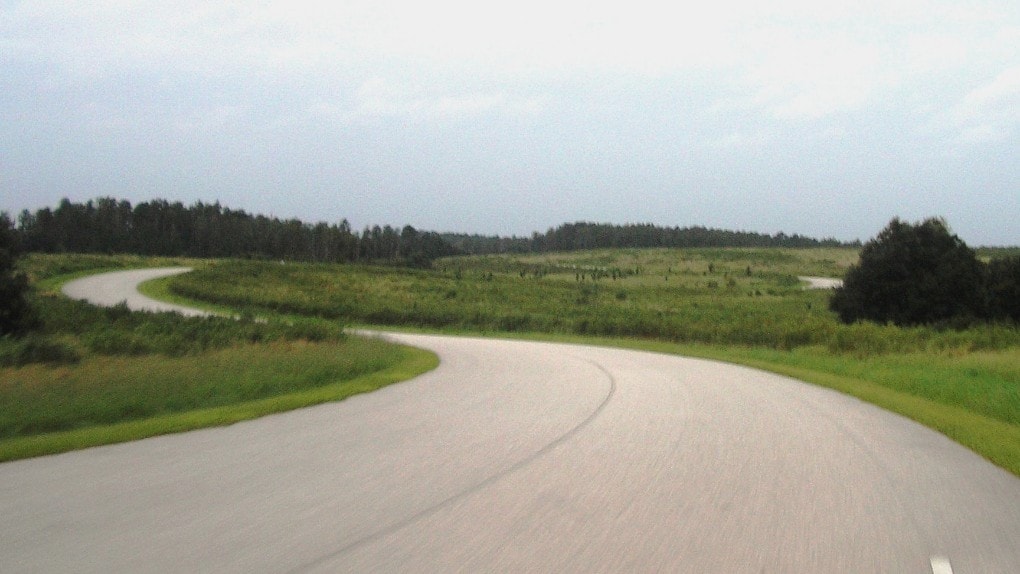 We first found Lake Louisa State Park after realizing that Wekiwa Springs State Park was just too far away from Disney to use as a launch point. This was about ten years, a truck, a camper, and two kids ago - so needless to say we really like the park as we've been there a lot. The park is located in a great location for both just relaxing at the campground and seeing the Orlando attractions.
The Park
One of our favorite things about Lake Louisa State Park is that no two times are the same. On our first trek to the park, we checked in late and were greeted with this heavy fog that made it very spooky as we winded through the roads to the campground. Another trip we literally spent the weekend just soaking in the scenery and relaxing. There really is a lot to do and see there.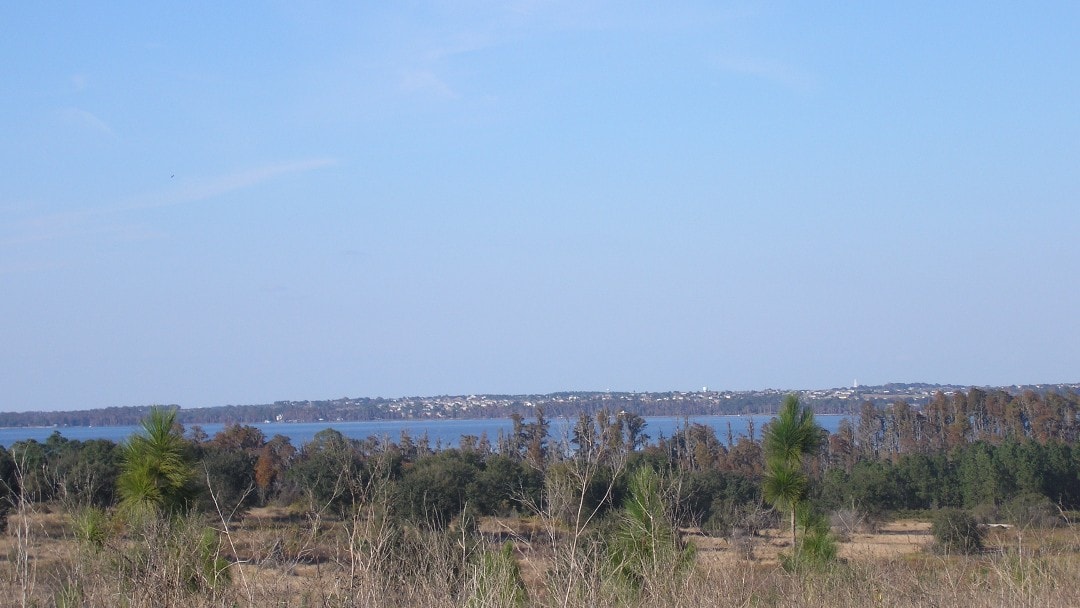 There are many lakes at Lake Louisa State Park - it's namesake being one of them. There are also two that straddle the campground area, which make for some awesome views when we get a spot near them. The water there is a tea color from all the cyprus trees on the lakes and there is even swimming on Lake Louisa, with a little beach area which features a nice playground.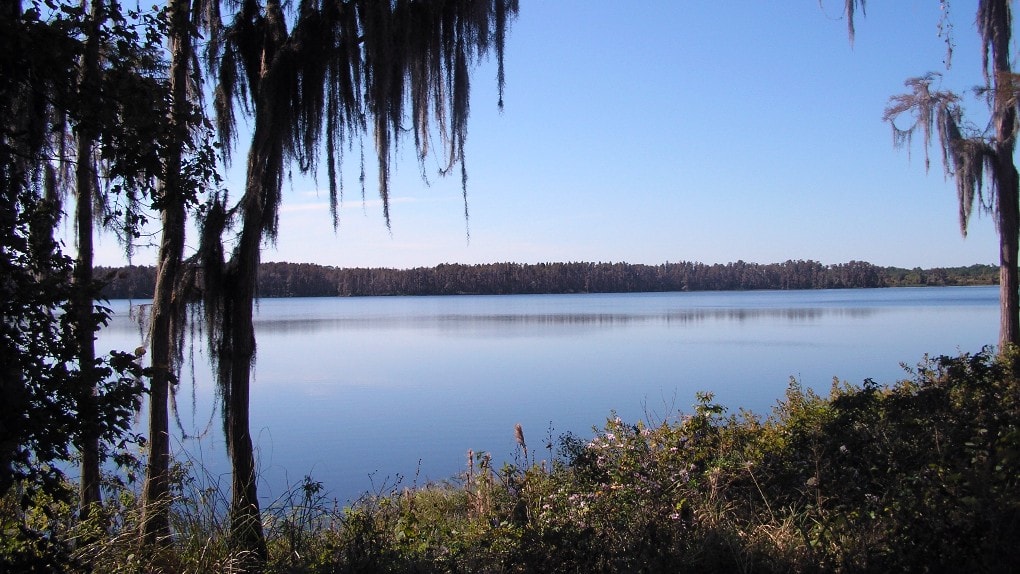 The Sites
One of the coolest things that the campground has going for it is that it has both pull through sites and full hook up sites. This really makes getting in late or staying a while easy - no backing in or blue boying it here. The sites are all semi private and spacious, with a crushed rock base which is corralled with a concrete curbing.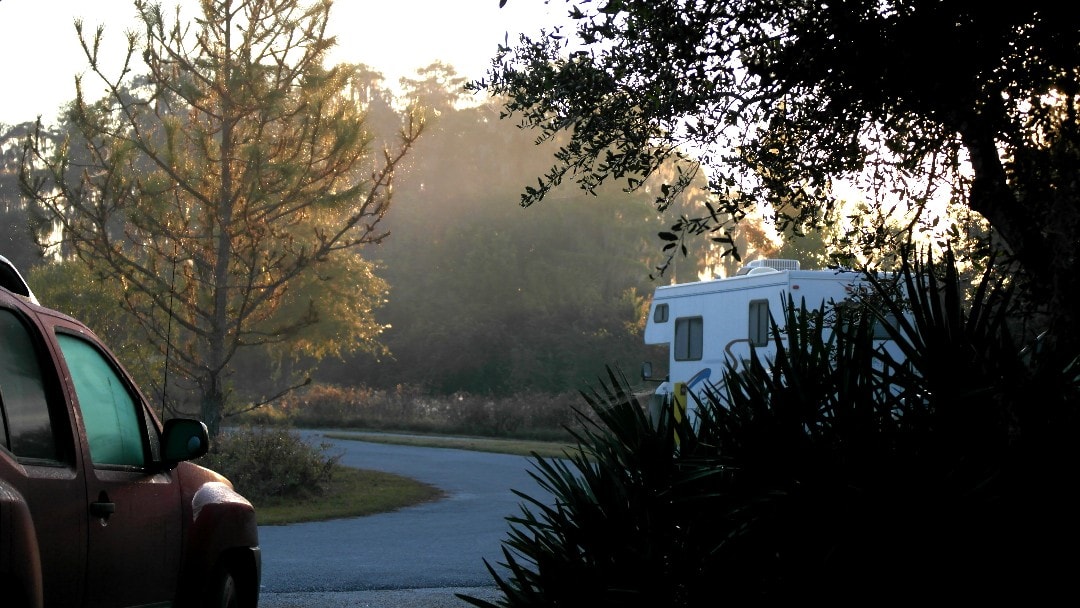 There are three separate loops at Lake Louisa State Park campground with two bath houses - which have been clean and well maintained every time we've gone. There are two fishing piers that are right in the campground, both featuring covered fishing areas with canoe launches. Finally the dump station features two dump hook up's - which does not sound amazing, but it makes getting out of there a breeze.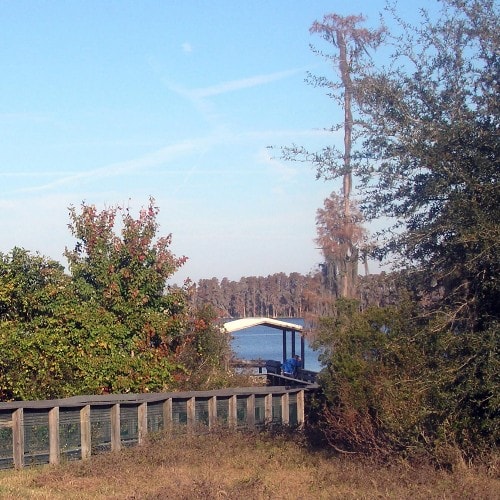 Since there are a lot of hills at Lake Louisa State Park, the campground is of course going to be located on them. This means two things - if your towing kiddie bike trailer you're in for a workout, and also your cell phone signal will be almost nothing. That aside, since you are close to Disney, if you time it just right you can actually watch the fireworks from the top of the hills in the park - just find a high hill with no trees in the area pointing towards Disney.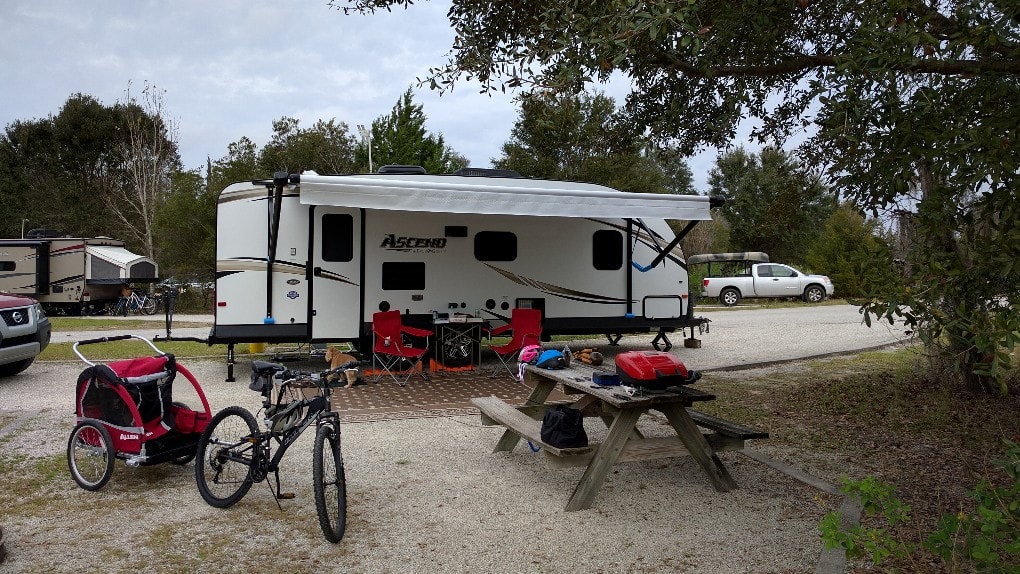 While there are many trails at Lake Louisa State Park, we tend to keep to the trail that leaves out of the campground loop. It's an easy ride (without kiddie bike trailer) and brings you by the cabins on the other side of the lake. The second half of that particular trail is the main road, but it's paved and makes for an easier second half.
The surroundings
Being outside of Orlando, the things to do outside the park are nearly endless. It's really close to Disney and Old town. It's also about a thirty minute drive from the Orlando Eye and Sea Life Orlando Aquarium, which are free to get into with free parking if you have the Awesomer Pass to Legoland.
Note: If your thinking about using Lake Louisa State Park as a launch point to visit Legoland checkout Cypress Campground instead. It's about 5 minutes away from Legoland whereas Lake Louisa State Park is about an hour.
There are also a lot of free things to do in the area. The end of the West Orange Trail is close by. Lake Ridge Winery is about thirty minutes north and offers free tours, tasty wine and monthly festivals. We've also been known to just drive around, enjoying the winding and twisting roads that we don't get near home.
Overall
Lake Louisa State Park is one of our favorite camping spots. From the campground, the proximity to the Orlando theme parks, and how close it is to Lake Ridge Winery there really is enough to do at this park to warrant multiple trips. Lake Louisa State Park always is surprising us. Just this last trip we saw the Disney fireworks from inside the park which had both of our kids jumping in their seats. It's had us making trips to it for over a decade and if that does not say something for it I don't know what will. We look forward to seeing the plethora of pine trees grow for years to come.
Links to the other posts in the Florida State Park series
---
Camping at Lake Louisa State Park