Ratings how do these work?
| | |
| --- | --- |
| Name | Oscar Scherer State Park |
| Address | 1843 South Tamiami Trail, Osprey, FL 34229 |
| Overall | 3 |
| Bug | |
| Amenities | |
| Staff | |
| Cleanliness | |
| Surroundings | |
Location
---
Note:
The last time that we went to Oscar Scherer it was gearing up for a major revamp, so the ratings are as of July 2017.
Review
Oscar Scherer is a campground located in the Sarasota region of Florida's west coast. It is mostly wooded with varying amounts of wooded area between the sites. One of the stand out features of the campground is the stream that runs through it with a one lane bridge that you must cross with your rig to enter. I do believe that the construction will change this.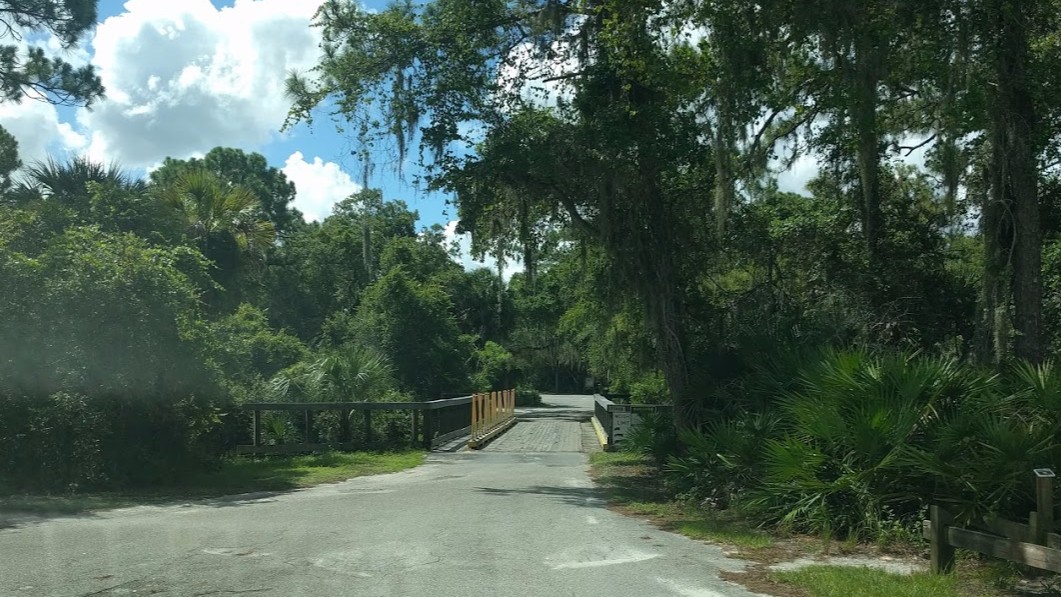 In our typical fashion we always set up at night here, but be warned - the mosquitoes while not big use their numbers to suck you dry. So make sure that you pack your bug repellent! Aside from that though, everything else is good, the sites are easy to back into and are clean.
Once you get all set up at your site, there are a few notable things to do in the campground, at least with young ones. While it's a little aged, the playground was a big hit for both our boys and our friends kids. Some of the old equipment was reminiscent of our youth.
Exploring a little further, you'll find a wooden foot bridge crossing the stream, it's nice and shaded so you're not totally exposed to the sun there if you want to stop and check it out. Once you cross the bridge you'll come to a newer playground and a little nature center. Also on that side there is a swimming pond, but being semi-Floridians (we were raised here, but not born here) we don't swim in fresh water that is not spring feed and clear. Hello alligators!
Meanwhile outside the park
If you are like us and use camping to explore not just the campground, but the surrounding area then you too probably care about what's going on in the nearby area. Luckily, Oscar Scherer is located near of some of the nicest beaches that we've ever seen - including the Caribbean. While Siesta Key gets a lot of attention and people, we found that the beaches in Venice were just as nice and not crowded.
Speaking of Venice (Florida), it's a cool little town that looks straight out of the 60's. Aside from having an amazing beach, it has a historic downtown which we try to eat our way through every time we visit. It may be one of the reasons that we love camping on that side of the state. There is a great sushi place, some tasty pizza, and a ton of fun shops to buy all sorts of dust catchers.
Overall, Oscar Scherer State Park is a nice and clean place to camp. It has a nice array of facilities on-site, and is easy to park your rig in. With the planned revamp that is/was planned we're sure it will be even nicer. That being said, the surrounding areas to the park whether it be Sarasota, Venice or Siesta Key keeps us coming back for relaxing and fun weekends.
Links to the other posts in the Florida State Park series
---
Review of Oscar Scherer