Ratings how do these work?
| | |
| --- | --- |
| Name | Jekyll Island Campground |
| Address | 1197 Riverview Dr., Jekyll Island, GA 31527 |
| Overall | 3.2 |
| Bug | |
| Amenities | |
| Staff | |
| Cleanliness | |
| Surroundings | |
Location
---
As we packed up the camper preparing to leave Red Gate and Savannah, we were a little sad. Visiting Savannah was just awesome on so many fronts and while we felt like we saw a lot - we left much to do on another trip. We said our goodbyes to the people we were traveling with and headed south to Jekyll Island.
Coming from the North we took the 'shorter' route which involved us crossing a giant bridge, then paid the toll, and then a medium size bridge - a trek on its own. Once there we had a moment of deja vu - Jekyll Island literally looks like a blend of Fort Wilderness and a fancy golf course. Keep in mind though, the campground is at the northernmost point of the main loop.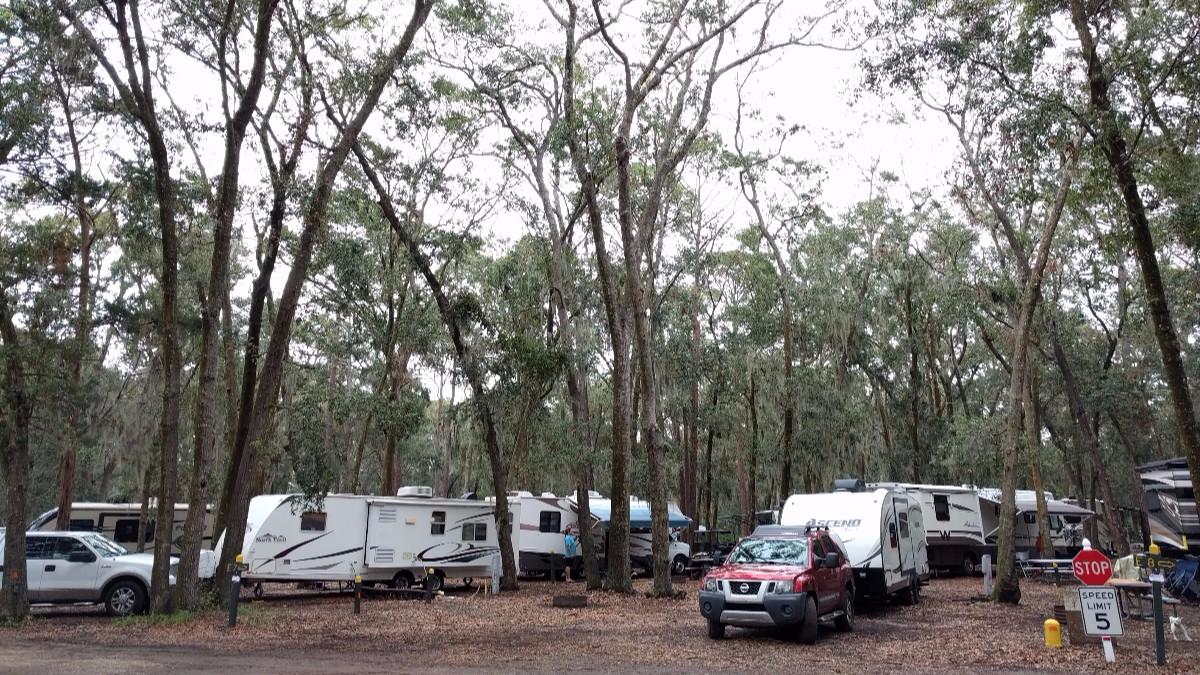 The campground itself is not quite the same as the rest of the island, but it's still nice. There are a lot of sites which are a little close, but nothing like some of the chain campgrounds that we have been to. They have a laundry and shower facilities, but we didn't use the showers during our stay. The laundry facility was nice though, and happened to be right next to our spot. It was also nice that the campground put out signs with your state outline when you are there for an extended stay. It was a nice touch.
Honestly though, if you're going to Jekyll Island you're probably not going for the campground, you're going for everything else the island has to offer. The beaches are long and slow sloping, there is a beach for driftwood, but that was a little too rocky for the kids. In view of the beach access is a double playground with a pizza place between them for those with kids. The pizza is not half bad either, and at the time of our visit I believe they delivered to the campground. Finally, while it was not open when we were camping, there is a water park that looked like it could provide a day of fun.
After a few days of staying on Jekyll Island we did finally get it - the island is for relaxing. Aside from the waterpark, all the rest of the island's activities from biking to beach lounging - everything on this island screams or really whispers relax. While we could have made it a little further south when traveling back home, we really are glad that we stopped for a few days on Jekyll Island to round out our little tour of Georgia.
We've got one more post in our Savannah series, when we were camping on Jekyll Island, we island hopped to St. Simons Island. So stay tuned for the final post in the series!
Links to the other posts in the Savannah series
---
Jekyll Island State Park