On our third and final day in Savannah we started at Forsyth Park and wished we had visited it earlier. While going to the 'park' seems like something that you can do anywhere, it's a bit different in Savannah. Aside from the open areas and beautiful scenery, Forsythpark has not one, but two playgrounds. Additionally, there is a indoor eatery with bathrooms nearby - important for those with kids. This naturally became the highlight of that day for the boys, and at the three year old's request, we returned at the end of the day to the park for a little more playground time. Between the fountain, trees, and playground, this is worth a stop.
After tiring the boys out a little at the park, we decided to tour the historic squares of Savannah. There are 22 of these mini parks throughout Savannah, and we most definitely did not see them all. Each one of them has a story, and it's easy to get caught up in discovering each one. Apparently Savannah is a 'designed' city, at least according to wikipedia and the squares tied to that design, which makes it really cool to explore.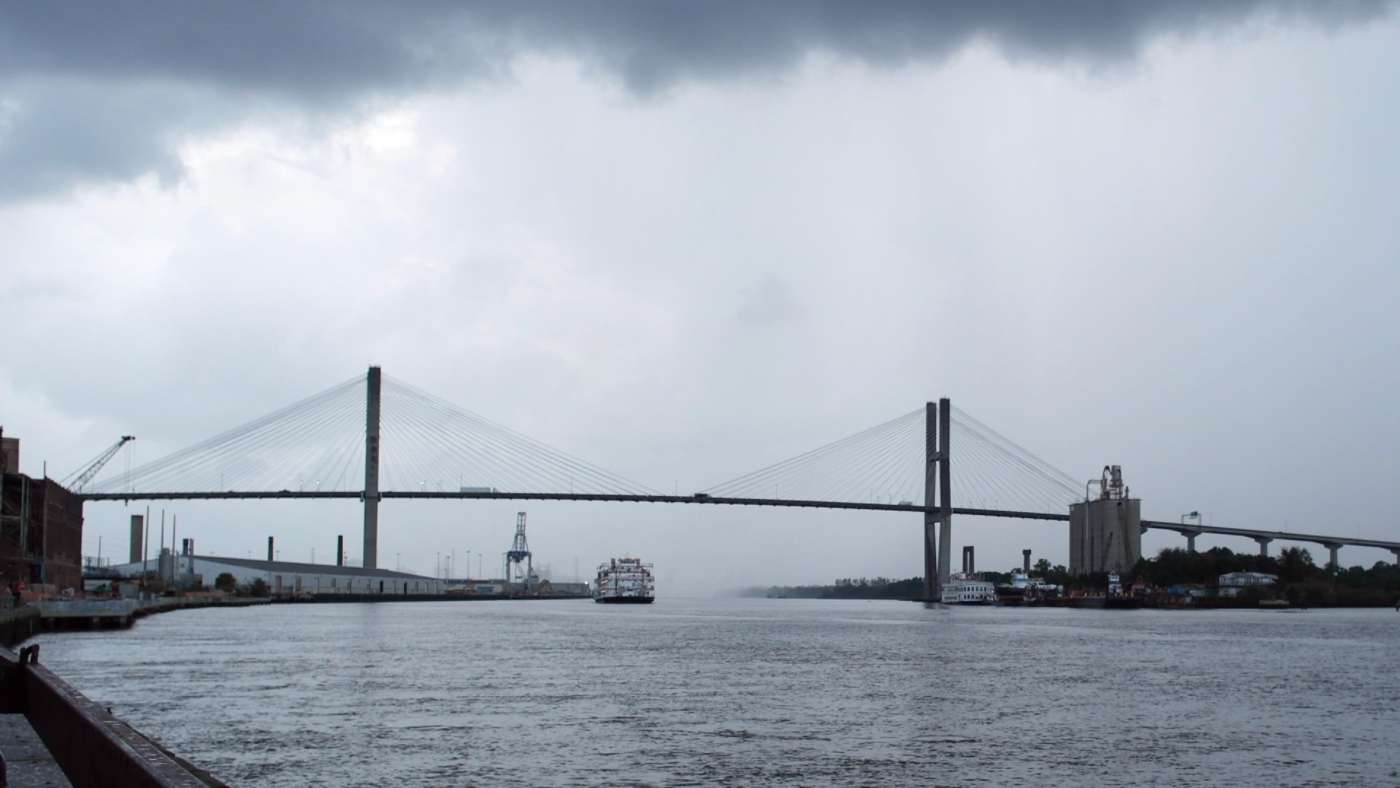 Note the wall of water behind the boat - we pick the best times of year to visit places.
Our touring of the squares lead us to the Waterfront in Savannah, which is an interesting sight to see. First off, to get there you need to go down a steep cobblestone road - this made us wish the War Wagon had a hand brake like the jogging stroller does.Once at the bottom you can visit many shops selling everything from art to mementos. We ran from the rain by stopping in the Savannah Candy Kitchen which had an amazing taffy machine and delivery system - all of us were thoroughly entertained.
Candy Cam
After waiting out the rain, we trekked back up the road with the War Wagon from river street to find that there IS an elevator. We don't know if they are on the maps, but if you visit - look for them before you head down. Trust us if you have stroller or are simply clumsy, you'll want to use the elevator.
Overall, Forsyth Park and Historic Downtown Savannah are really cool places to visit. After visiting for a few days we feel like we left a lot left to explore on another trip. We headed back to Red Gate for our last night in Savannah and prepared to visitJekyll island on the ride back home.
Links to the other posts in the Savannah series
---
Forsyth Park and Downtown Savannah