Ratings
Link to product
Would we buy it again?
Yes
Value
Awesome
Ease of use
Easy
---
I've been using Duragloss 501 RV Polish since 2015 to protect our Evergreen travel trailer's fiberglass. Since we're in South Florida, we really needed a way to keep most of the outside of the camper in good condition, since the sun and weather beat on everything down here. We'll explore how we got to this point, how to apply Duragloss 501 RV Polish, and what to expect from it.
On our last camper with fiberglass sides we struggled with waxes and polishes, and in the end we still had issues. Whether it be the decals getting funky looking with the wax build up, or the wax simply not lasting that long. We even resorted to the super aggressive marine high cut polishes and waxes, but nothing lasted longer than a month or two.
If you read the post on Duragloss 531 Vinyl Protectant you'll already know that I actually went to a car care festival looking for an answer. I started looking as waxes, but all of them washed off or melted in the Florida sun. Not to mention the re-coat times were in the 1-2 month range. I'm assuming that you're like me and really don't like waxing your camper, so this lead the waxes to be out.
Next I started looking at sealers, which are like waxes in that they make the surface easier to wash, but work on a different level. In general from what I understand, sealers bond to the surface, not top coating it like wax. What this means in the end is that they stay on the surface a lot longer, don't easily wash off, and don't melt in the sun. This was it - exactly what I needed.
The next quest was which sealer to use? I felt like there were almost too many vendors there to pick from. All of them had different prices points and durations between coats, etc. - some were even $150 an application, which is way to pricey for me.
After a long and tiring search, I ended up selecting Duragloss 501 RV Polish, and am really pleased so far with the product. Not only is it super simple to apply, but it is affordable, at around $14.00 a bottle. I need about 1 and a half bottles to complete the camper, which includes the fiberglass roof, so it's not too bad. The manufacturer claims about a eight month duration on the coats, but I do it about every six month, as it seems like it needs it about then - this also lets me schedule it during the cooler months in Florida.
Application
Applying Duragloss 501 RV Polish is a straight forward process. First, like any coating application make sure the camper is clean and dry. Then you have two choices applying it with a machine of by hand. I've done both and tend to do a blend of them, with the tight areas by hand and the big spaces with the machine.
Once the camper is clean you can simply rub Duragloss 501 RV Polish on, let it haze, then wipe it off. This can be done in full sun, so no need to get under a shade tree or whatnot. For a 28 foot long camper with a fiberglass roof it takes me six hours, give or take.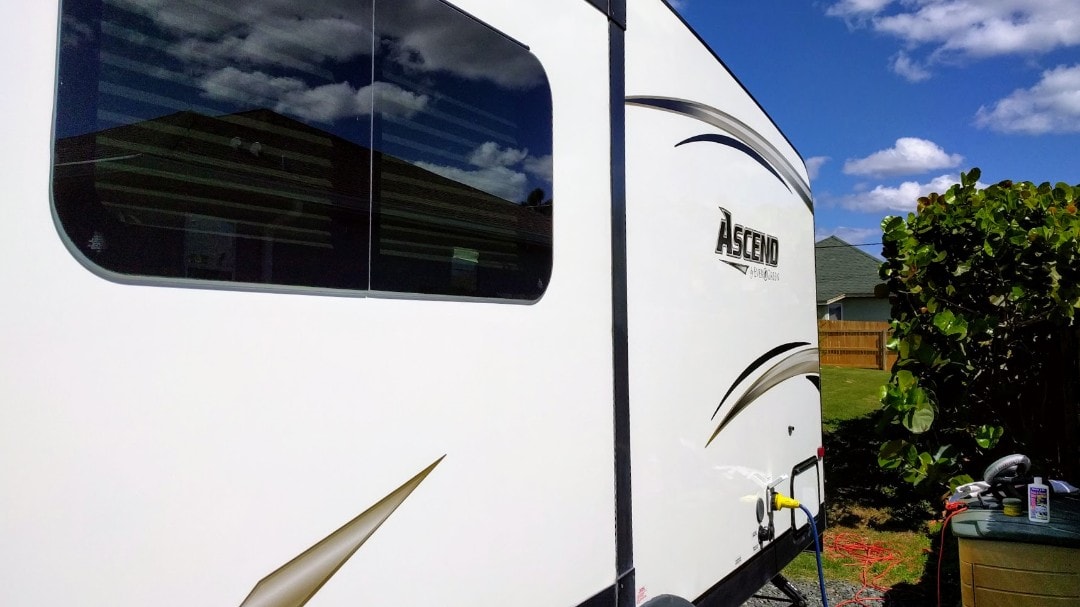 Right after I finished using Duragloss in March on the 4 year old camper
One of the cool things about Duragloss 501 RV Polish is that it takes out black streaks like they are nothing. In the past I'd need to use another product just for them, or use an aggressive polish to remove them. Additionally, using this sealant has reduced the occurrence of black streaks.
Overall
We really like Duragloss 501 RV Polish for protecting our camper. Applying it twice a year has limited the yellowing of the fiberglass to a minimum, made it easier to clean between applications, and in general is a really easy to use product. The only improvement that we could see is if it applied itself!
Always follow the manufacturers instructions, this write up is simply the way that I do it, and it may or may not be the right way. Use your common sense when applying products to or altering your stuff and always wear the appropriate safety gear.
Links to the other posts in the Camper Maintenance series
---
Review of Duragloss 501 RV Polish