Ratings
Link to product
Would we buy it again?
Yes
Value
Good
Ease of use
Medium
---
This is the stuff I've been using since 2015 to protect our Evergreen travel trailer awning. Since the camper has a vinyl awning and we're in South Florida we really needed a way to keep it in good condition, as the weather beats on everything down here. After having to replace the last camper's awning for about $1200 and a day of work, I really didn't want to have a repeat on this camper.
So how did I find this stuff?
It's kind of a funny story, I went to a car care festival back in 2015 dragging one of my friends as no one else in my circle saw this as a 'fun' time. The festival was huge, more vendors than I could have even imagined. The coolest part though was that the festival had a lot of the people in the know in the industry, so they easily answered many of my questions.
After learning about Duragloss 531 Marine and RV Protectant it seemed like a no brainer. It's rated for saltwater, which takes my use case to an even higher level. Also, while my wife might say otherwise I really don't like to do maintenance, and this stuff lets me get away with a twice a year application which triggered this review. While the bottle says that it can last eight months I apply it every six, so that when I 'push' the task off a week there's not any lapse in coverage.
Application
This is straightforward, clean the awning, us the magic eraser to remove any blotches on the awning, then apply. I use a 'trash' rag to apply Duragloss 531 because after using it a few times, I've realized that the application rag will become trash. I have noticed that if you apply this on a hot day in the sun, it will get very, very sticky - another reason why I schedule to do this in the cooler months. Finally I typically let the awning stay open for the rest of the day so that it does not 'stick' together.
Overall
I like, and continue to use Duragloss 531 every six months. After a few years of usage I have not seen any wear on the outside of the awning, particularly on the top where awning meets the trailer. This is where the last awning failed, so I'm assuming that it is working. Additionally, I've noticed after a good layer of Duragloss 531 is built up that cleaning the awning has become easier. While I do still get the mildew spots, they are nowhere near the amount that I got on the old trailer, and typically they can be washed off.
Update
After a few weekends of rain - I finally had a chance to make it out for complete the job and figured that I'd share the results.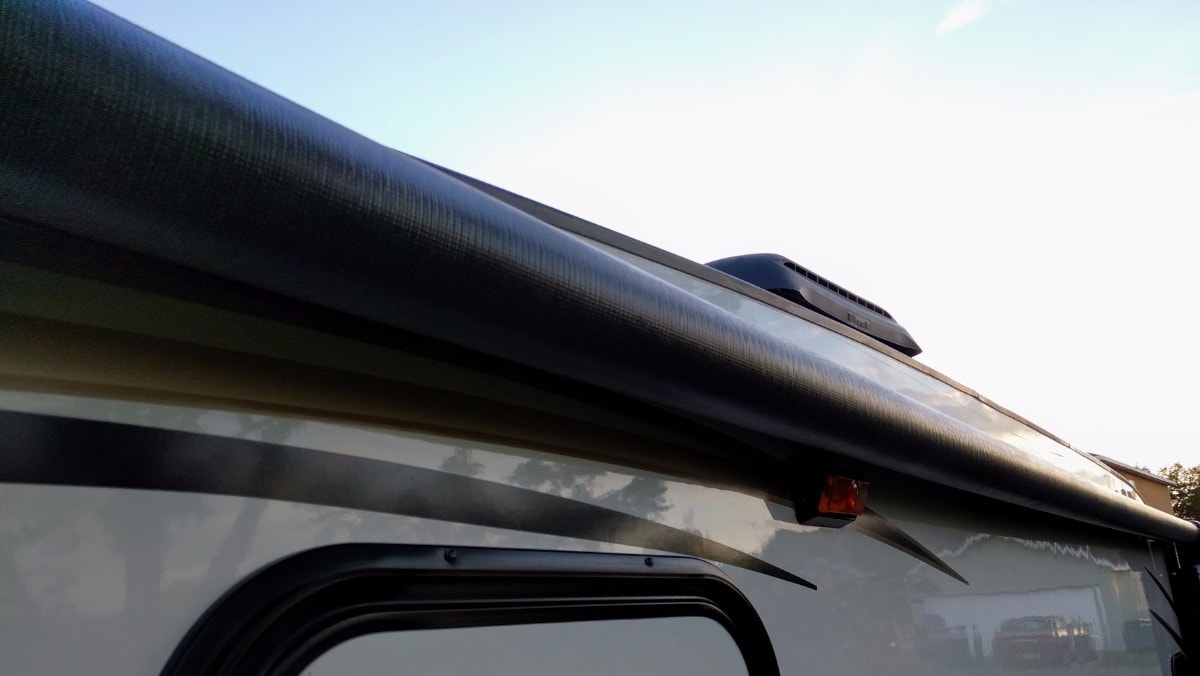 Not bad for an almost four year old camper awning, which is stored in the Florida sun!
Always follow the manufacturers instructions, this write up is simply the way that I do it, and it may or may not be the right way. Use your common sense when applying products to or altering your stuff and always wear the appropriate safety gear.
Links to the other posts in the Camper Maintenance series
---
Duragloss 531 Vinyl Protectant