Ratings how do these work?
| | |
| --- | --- |
| Name | Jetty Park |
| Address | 400 Jetty Park Rd, Cape Canaveral, FL 32920 |
| Overall | 4.2 |
| Bug | |
| Amenities | |
| Staff | |
| Cleanliness | |
| Surroundings | |
Location
---
Jetty Park is located in on Florida's east coast on just south of Kennedy Space center in Cocoa Beach. Typically we try to avoid campgrounds in urban settings, but all of the cool things inside and out easily let that be overlooked. From the beach access to the cruise ship watching Jetty Park is one of our favorite getaways.
Sites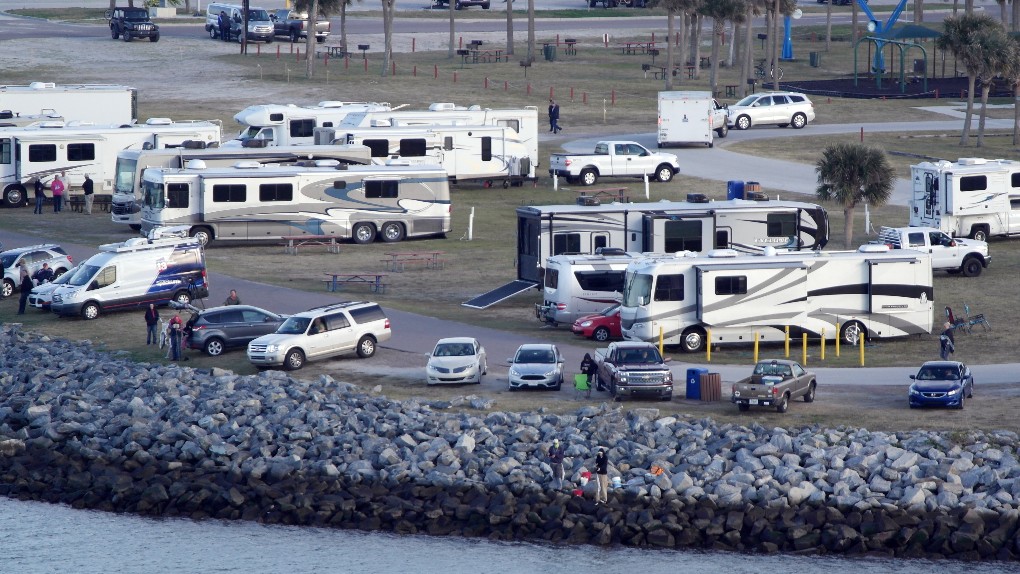 The sites in Jetty Park are typically simple grassy spacious sites - some with pads and other without. Keep that in mind when booking, since some sites are primitive you need to pay attention to the type of site that your booking. Every time we have been there, we haven't had an issue backing in or with the hookups which is a lot to say for a campground that is literally on the ocean. For the sites without full hookup, there is one dump station that is easy to get in and out of. One of the nice things with this campground is that it falls under the Canaveral Port authority, so there is patrol going around constantly and if it counts for anything, we never had and issues there.
Aside from the sites, there is a ton of things to do without leaving the campground at Jetty Park. This by far is one of the main reasons that we enjoy going there as often as we do. We could easily show up there on a Friday night and not leave until Sunday. Among one of our favorite past times is simply watching the cruise ships leaving the port - the close proximity the campground has really gives for some cool views of them.
The Beach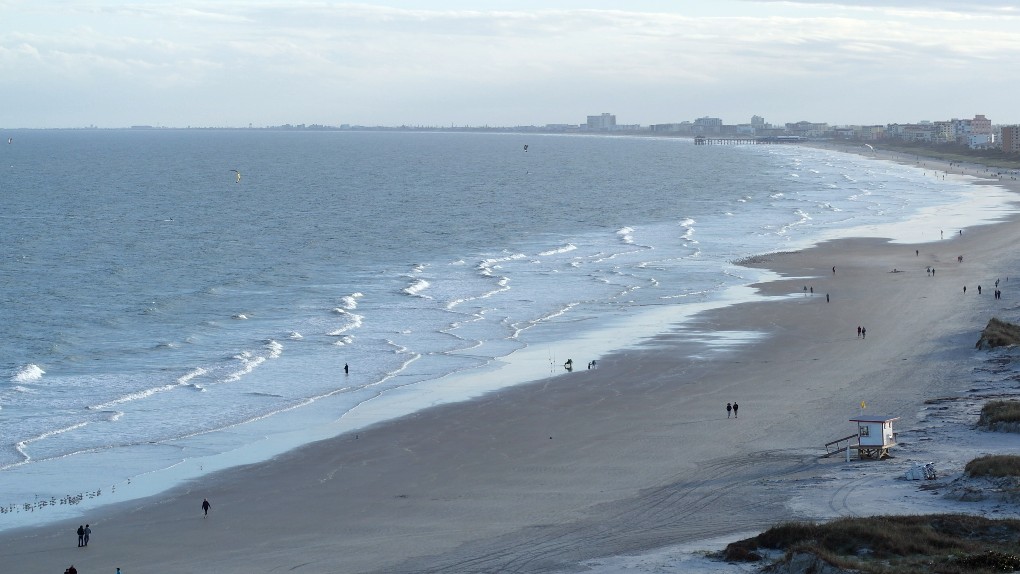 Beach access is one of the best parts of Jetty Park hands down. Even the furthest sites are less then a 5 minute walk from your camper door to beautiful sprawling beach. If you forgot your beach chairs or umbrella there are even rentals generally available. We typically bring the foldable war wagon and a giant beach umbrella with us when we head to the beach. It just works for us and the kids.
The Jetty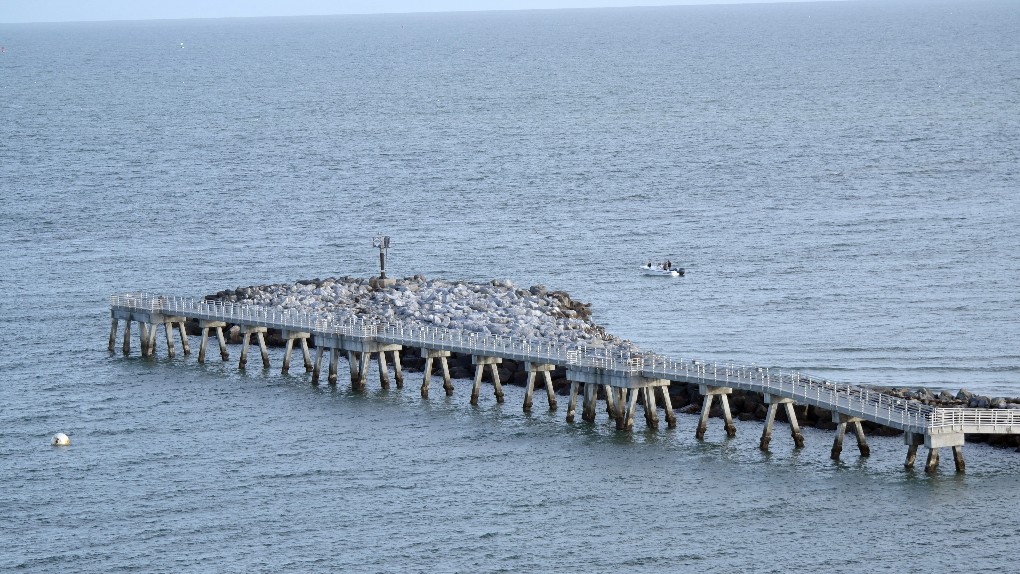 It would be odd if Jetty park did not have a Jetty, but luckily it does. It is also only a five minute walk from anywhere in the campground and has a ramp so if you use a fishing cart there's almost no obstacle to your fishing. Every time we have gone there it has always been clean, which is a big deal to those with kids who think that everything should still got in their mouths. I believe there is even a bait shop at the base of the Jetty, so they even have that covered for you.
The Playground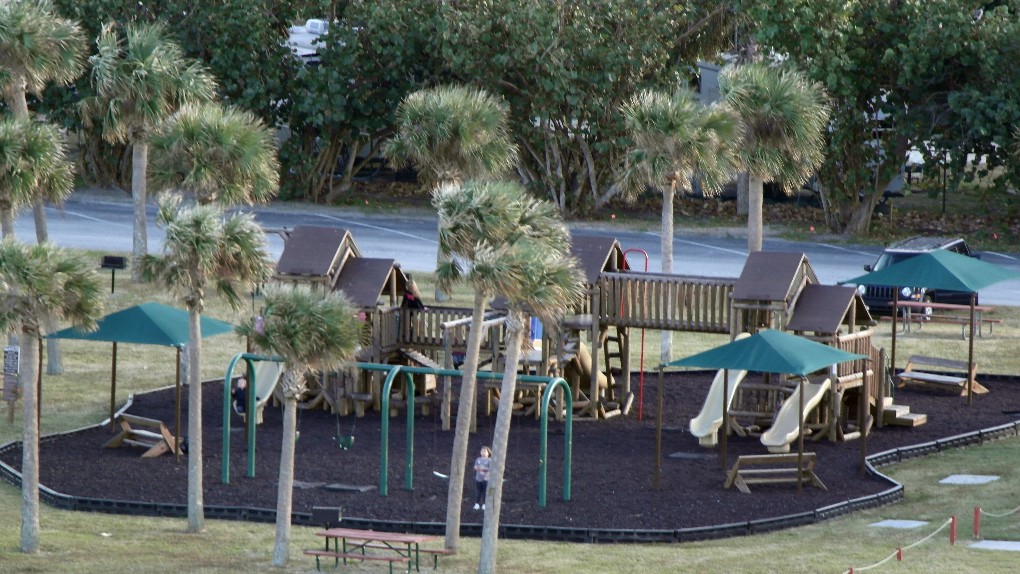 Typically, the playground is a footnote or a simple "yes - there's a playground", but the playground at Jetty Park is one of the major things our three year old talks about. It's huge and has tons of things for the little ones to do. Even better, there's tons of seating for the parents and even a bathroom right next to it. Watch out though, there are some high areas that the littlest kids might want to see, but probably shouldn't.
What else?
Since Jetty park is located in Cocoa beach there is a lot to outside of the campground as well. In no particular order here are some of our favorite things to do.
Kennedy Space Center really does not need an introduction and it is very close to Jetty Park. Depending on your space enthusiasm - ours is about a 6 out of 5, you might even want to get a multi day pass. There's a ton to do there for all ages and in general really deserves its own post.
We didn't know about this one for the longest time. There really are two of them - one which is only accessible from the Kennedy Space Center tour and the other which is a ten minute drive from Jetty Park. The one closet to Jetty Park is free and is basically a big room with a lot of cool early space items. Every time we have gone there the staff, sometimes actual people whom were in the thick of the space program, have always been really nice and knowledgeable. You'd be doing yourself a dis-service by skipping this one if you have any interest in the space program.
For the longest time we didn't know that the Dinosaur Store had an museum. And while small, it's perfect for us and the kids. They have full sized dinosaur skeletons and a lot of interactive displays. Plus, they let you hold REAL FOSSILS.
It's hard to talk about Cocoa Beach and not mention Ron John's surf shop. It's a fun place to check out and there prices are generally pretty reasonable. If you realize that you made it to Cocoa Beach and forgot you beach gear its a great place to re-supply.
Cruise Terminal Restaurants
Depending on how much you like to walk, these are in walking distance from Jetty Park. There are quite a few there and we haven't eaten at a bad one yet. Our kids like them simply for the boat watching, which makes it easier to get through a meal sometimes.
There are two entrances to Canaveral National Seashore and the south entrance is about twenty minutes away from Jetty Park. While going to a beach when you have beach access seems odd - the cool thing about Canaveral National Seashore is that in general the beach is not that crowded. Also on the south side of Canaveral National Seashore on the ride in you can actually see one of the launch pads at Kennedy Space Center - which is just cool.
Overall
Jetty Park is definitely on the top ten list for us - especially for long weekends. It's easy to get to and just has a ton of fun things to do inside and outside the park. Jetty Park is priced a little more than the State Parks, but everything that it has to offer makes the price very justifiable.
Links to the other posts in the Brevard County series
---
We visit Jetty Park Campground