One our last trip to Blue Springs State Park we came back to our camper from tubing in the spring to silence. Normally this is a welcome sound, with two kids under four it's not even something that we are accustomed to. In this case it was not golden - our air conditioner had died.
Typically, we can recover from minor failures like our experience at Oscar Scherer where the electrical input to the camper had issues. With air conditioning however, it is almost never a minor failure, especially since they are typically a 'closed' system. Nevertheless, we went through the typical recovery steps. Cycle the breaker, wait a few minutes, listen and then an amazing loud thud thud thud screech - at that moment we knew that this trip was over.
Heading home
On the trip home we started planning for worst case - total replacement. Typically changing like for like is the way to go to make the next installation easier. Since this air conditioner only lasted two and a half years we decided a like for like change was not for us. We then went to look up how much a Carrier would cost, but unfortunately they no longer made RV air conditioners… we were at a loss - replace with another short lived air conditioner or keep looking. We choose to keep looking.
Once we made it home we decided to open up the air conditioner and check to see if we were wrong. Perhaps there was just something just stuck in the air conditioner. Maybe we could save a few dollars and many hours on installing a new air conditioner or researching options.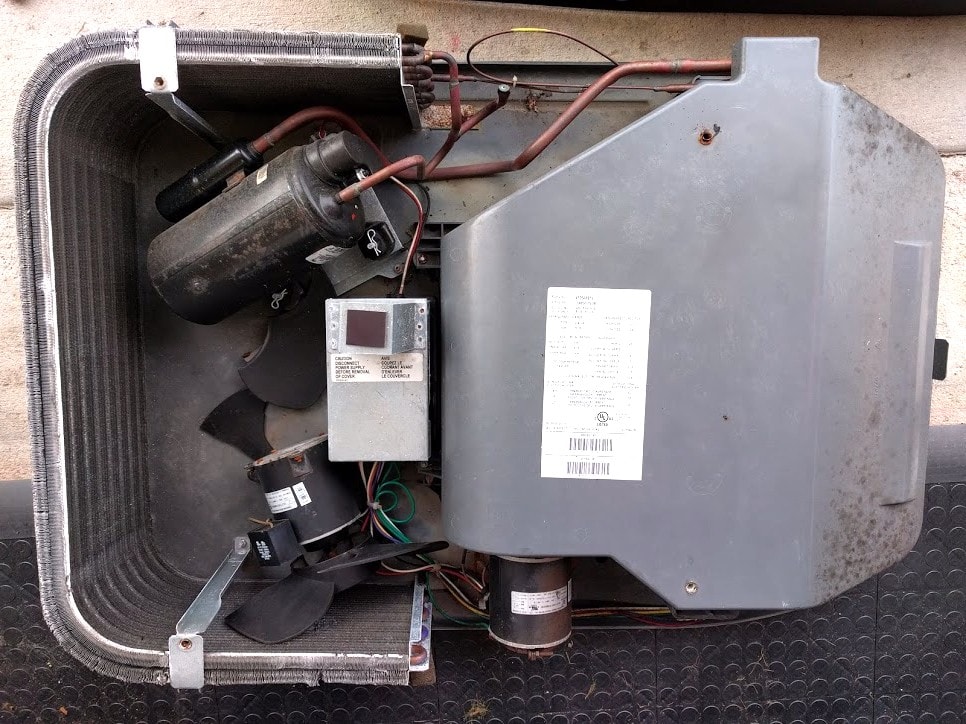 Parts scattered everywhere in the case… Note the one fan motor broke free of its mounts.
Upon climbing up on the camper and removing the case we knew that we were going to have to totally replace the air conditioner. One of the fan motors seemed to have broken free of its mounts and grenaded inside the air conditioner. Pieces were everywhere - and some parts were not even there any more. Luckily there were no roof leaks caused by this failure, so we simply flipped the breaker off and started looking for our next air conditioner.
The Search
Now we were in research mode - ideally we wanted to finish our research in under a week, get it shipped in a week and then install the new air conditioner the following weekend. This would allow us to still make our monthly camping trip - which was canceled anyhow because of Hurricane Irma, but that's another story.
There were a few things that we wanted from the new air conditioner.
Quiet: Our old air conditioner was loud inside and out - so much so that we actually entertained buying one of the $140 quiet kits.
Lite: We didn't want to add any weight to our camper, worst case the same weight would work, but whenever the opportunity to shave a few pounds off the camper we take them.
Efficient: Per our highly scientific test of reading the Progressive Industries RV Surge Protector (EMS) we were pulling 18 amps on low speed. In the peak of summer in Florida we usually ran on high so that number was usually higher. This meant that in summer we could either have air conditioning or use the microwave, but not both.
Part Availability: This is a big one for us - if we can't get a part or service then even the best air conditioner is not too desirable.
We quickly realized that this was not going to be an easy task. There are many choices out there and mixed reviews about all of them. we dug in and started pulling out the notebook to start our research. We like lists and this notebook is the best for them, in our opinion.
After filling up a page or two we then looked back and analyzed our findings.
Coleman: This is our like for like replacement, we knew what we were getting here, but wanted to make sure that we checked out the current versions and reviews of the product.
Dometic: These had mixed reviews, but they seemed to be on a innovation spree as of late, so they peaked our interest.
Carrier: We've owned two of these air conditioners and never had any issues with them. We actually found a new old stock one, but knowing that they have been discontinued we decided to pass.
Atwood Air Command: We had not heard of this 'model' before but it's an import of an Australian brand that's been around a while.
The Results
We ended up going with the Atwood Air Command to replace our Coleman Mach 8 air conditioner. There's a plethora of reasons for this and we'll cover them in a future review, but there a few stand out reasons. These are the claims and other notes that triggered our purchase:
Quiet
Low Energy usage (for a trailer air conditioner)
Good reviews on the form boards
Had a heat pump
Lite
These are the high level reasons for us. We both admit that after reading a review that compared it to our previous Carrier A/C's, we gave it another point. We were a little worried that there was not too much information of the internet, but if we get over two and a half years out of it then we're ahead of the game at this point.
Stay tuned for the full review of the Atwood Air Command coming soon.